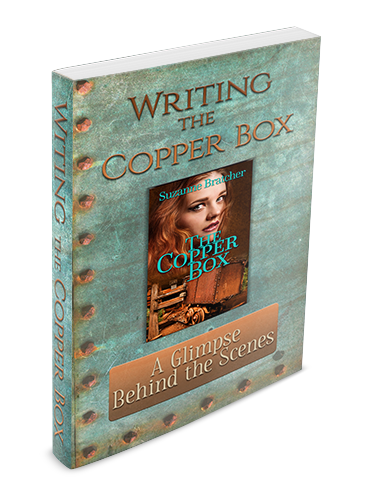 Sign up for Suzanne's FREE newsletter, and you'll receive a gift – Writing the Copper Box: A Glimpse Behind the Scenes. Suzanne's newsletter, The Storyteller, features fun topics, such as Cat Tales, Word Play, Suzanne's Writing Life, and more. Suzanne hates SPAM as much as you do, so your email address will never be sold, given away, or used in any way except to deliver content to you from Suzanne. You may also receive notifications when future writing projects from Suzanne become available.
To sign up and receive your FREE gift and the newsletter, please complete the form below with your first name and email address. You'll get a confirmation email, and once you've confirmed, you'll be automatically redirected to a page with instructions on how you can download your copy of Writing the Copper Box. You will also receive a short series of introductory emails from Suzanne every few days over the next two weeks.
Following those first few intro emails, you'll only hear from her when the latest issue of The Story Teller is published and if a new book or project is released.

Thanks for joining Suzanne's newsletter list. Enjoy your gift!
Return to the Home Page.